Platform One: Probably the most complete connectivity platform in the UK?

Platform One helps our customers deal with ever more complex connectivity choices in a straightforward, timely and very cost-effective manner. Based on in-house developed expert systems and integrated with our own software defined network core, it's brilliant for customers that need to connect multiple people, places and things - using a mix of different connection types to the private and cloud based services they need to thrive.
It's also a great platform for Managed Service Providers, enabling them to connect their customers to their services, using whatever the most appropriate connections might be.
Set against a background of good news and bad, Platform One sets out to make difficult choices, straightforward.
The good news is that there are lots of ways that customers can connect people, places and things together. Out in the open market, you can choose from fibre Leased Lines, EFM, ADSL, FTTC, FTTP, 3G and 4G data plans and fixed wireless. And there are lots and lots of providers too. Dozens in fact. It is a VERY competitive market.
And that's also the bad news.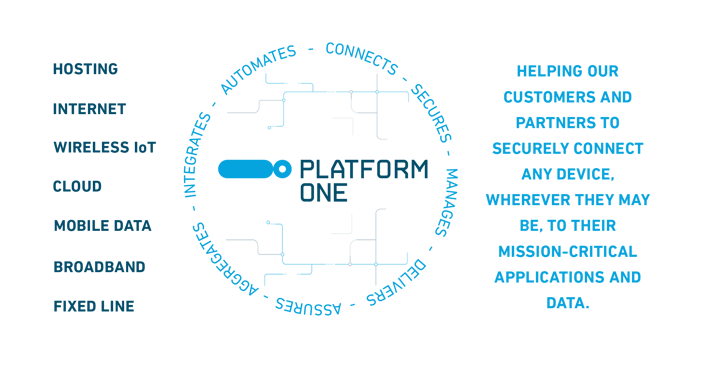 Making the right technology choices AND making the best competitive choices, is REALLY hard. Getting a satisfactory result for the competitive quoting part alone can and does take weeks. Literally. Or minutes with Platform One. Literally.
And then, when you have ordered and waited for delivery of each of the different technologies from each of the different suppliers you selected in your quest to get best value, you have the sheer joy (tongue in cheek!) of making them all work together. That too can also take weeks and cost a LOT of money and people time. Or, you can buy them all from one source with Platform One and know that they will all work together as soon as they are delivered. (We've done all of the hard yards with the services you can choose on Platform One - we've integrated them onto our network already, so that you don't have to.)
Then you probably want those people, sites and things connected to your favourite cloud service providers and almost certainly to the public internet as well. Securely. You may have you own data centres or datacentre suites that need adding to the mix too. Also straightforward with Platform One. We've likely connected the ones you want to use already.
And then, if you chose to ignore Platform One and went down the self-build route, you have the pleasure (tongue in cheek again!) of dealing with multiple suppliers for contracts and commercials and multiple project managers, each keen to please and you get different bills from each supplier plus you have to deal with multiple support desks, none of which really speeds you up or lowers your operating costs. If however you chose the Platform One route, you could instantly compare the services and prices of all of the most significant suppliers of each type of service, have one contract, one set of commercials, one project manager, one bill and one point of contact for support issues with any of the suppliers
But most importantly, Fluidone have pre-integrated ALL of these services together on Platform One and they come with a guarantee that they will all work together, securely, to a specification we pre-agree with you.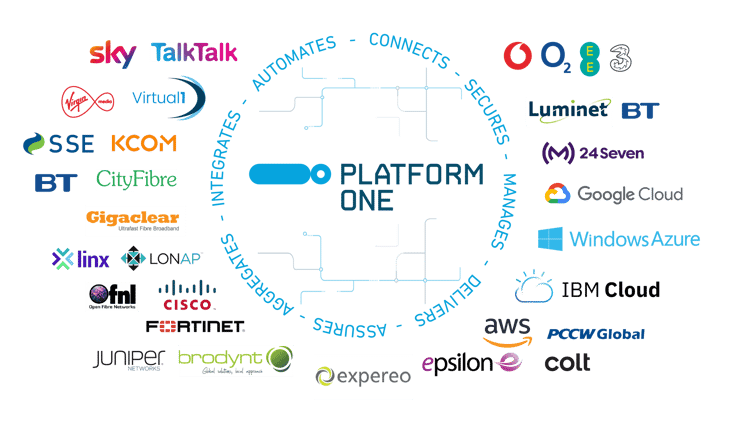 "Platform One aggregates and integrates the fixed line, broadband, mobile and wireless services of just about every major supplier in the UK and then connects them all securely to the public internet, to the major cloud service providers and also to just about every significant commercial data centre in the UK."
Platform One can take MONTHS out of the whole research/quote/negotiate/order/delivery process AND deliver a more satisfactory result.
Really, that's the problem Platform One is trying to solve. Turning complex hybrid connectivity requirements into straightforward, easy to consume, best value services.
"Frankly, there are lots of companies that claim to aggregate services. Perhaps the most extraordinary thing about Platform One is the sheer number and breadth of services that are available. I can't think of one significant connectivity player, fixed or mobile, that isn't represented. There's an almost unwritten guarantee that you must be getting the best match and the best deal for any given customer scenario. And the killer blow is that they are all pre-integrated and all work together."
Building Platform One
Platform One is the result of 15 years of continuous service development. It anticipates that in a cloud-centric, on-demand world, customers will need to connect people, places, assets and things from many different origins together and to the services that they need to consume as secure, co-operating communities. It guides customers, impartially, towards best fit and best value services and guarantees appropriate interoperability and security between different service types, invisibly to end users.
Physically, Platform One is a 1,000Km+ national fibre optic network, overlaid with carrier grade Juniper MPLS switching and routing systems. Platform One is Software Controlled and features near real-time control of customer services. It has physical presence at 14 of the most popular carrier hotels in major cities across the UK. At these sites, Platform One interconnects directly with Ethernet services from fixed line providers Sky, TalkTalk, Virgin Media, Vodafone, BT Wholesale, Openreach, SSE Enterprise Telecoms, Colt, Virtual1, Gigaclear & Cityfibre. It connects to the mobile data services of EE, Vodafone, Three & O2. It features direct private connectivity to Google Cloud Platform, Amazon Web Services, Office 365 & Microsoft Azure. It features fixed wireless and microwave services from several specialist suppliers.
It includes wholesale xDSL interconnects to both BT Wholesale and TalkTalk's xDSL networks (including FTTC & FTTP services) and offers gateway connectivity to over 100 commercial UK data centres. It's connected, of course, to the global internet, via UK and European internet exchanges and to several upstream Tier 1 transit providers.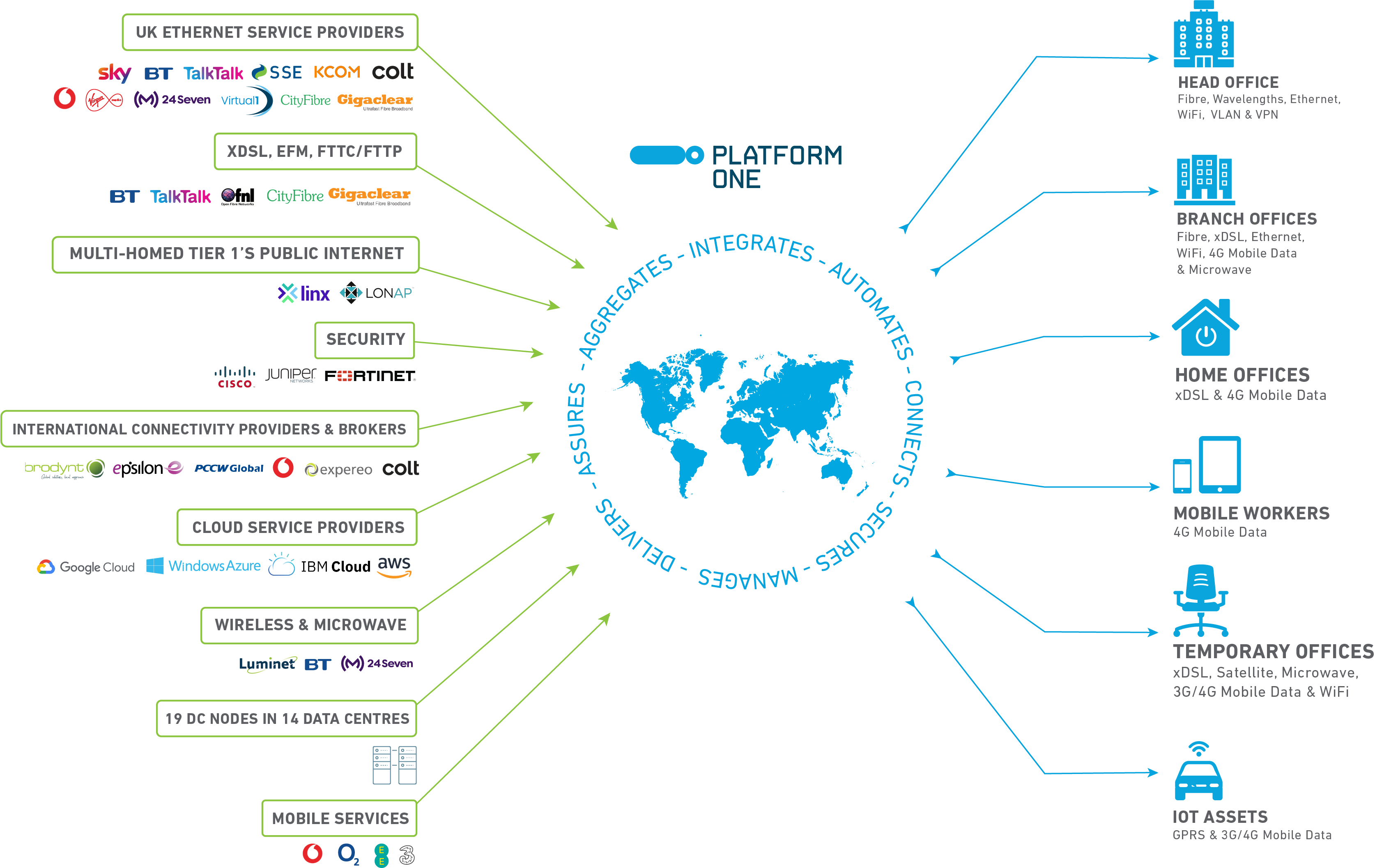 Platform One allows customers to freely choose whatever type of connectivity best suits each of their asset classes, whatever they may be, wherever they may be, whenever they need to and know that, where security policies allow, they can all communicate reliably with each other from day one.
Each Platform One customer is unique and each chooses the communications services that best suit their needs from the huge portfolio that Platform One represents. Private Cloud connection to your favourite hosted services in any one of 100+ data centres? FTTC for small offices perhaps? Bonded 4g for temporary facilities? Diverse Ethernet leased lines for performance critical sites? Cloud connections to Azure and Office365? Mobile voice/data bundles for field teams? FTTC for home workers? Fibre connections backed up by line of sight wireless for your own data centres? SIP trunks for your VoIP needs? And all bound securely together into a virtual private cloud with resilient internet access.
But best of all, for every different type of connection you need, on Platform One you will be able choose from multiple providers, making sure you always get the best combination of specification, value, performance, flexibility & support.
"Everything we do is designed to make the selection, enablement and consumption of advanced communications services easy, cost effective, low risk and a great fit to each customer's unique needs."
You're in the right place. Whilst many SD-WAN use cases developed for US markets do not make commercial sense here in the UK, others do. As with all things Platform One, we help here by giving you a choice of options in order to achieve your business requirements.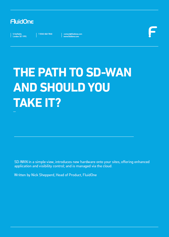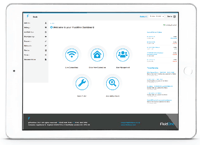 We offer Cisco Meraki, where end devices are predominantly M2M, mobile data and/or WiFi based. And Fortinet's Fortigate SDWAN for private/hybrid clouds requiring ultra-secure fixed line connections with SD-WAN flexibility to their sites.
And of monitoring and management?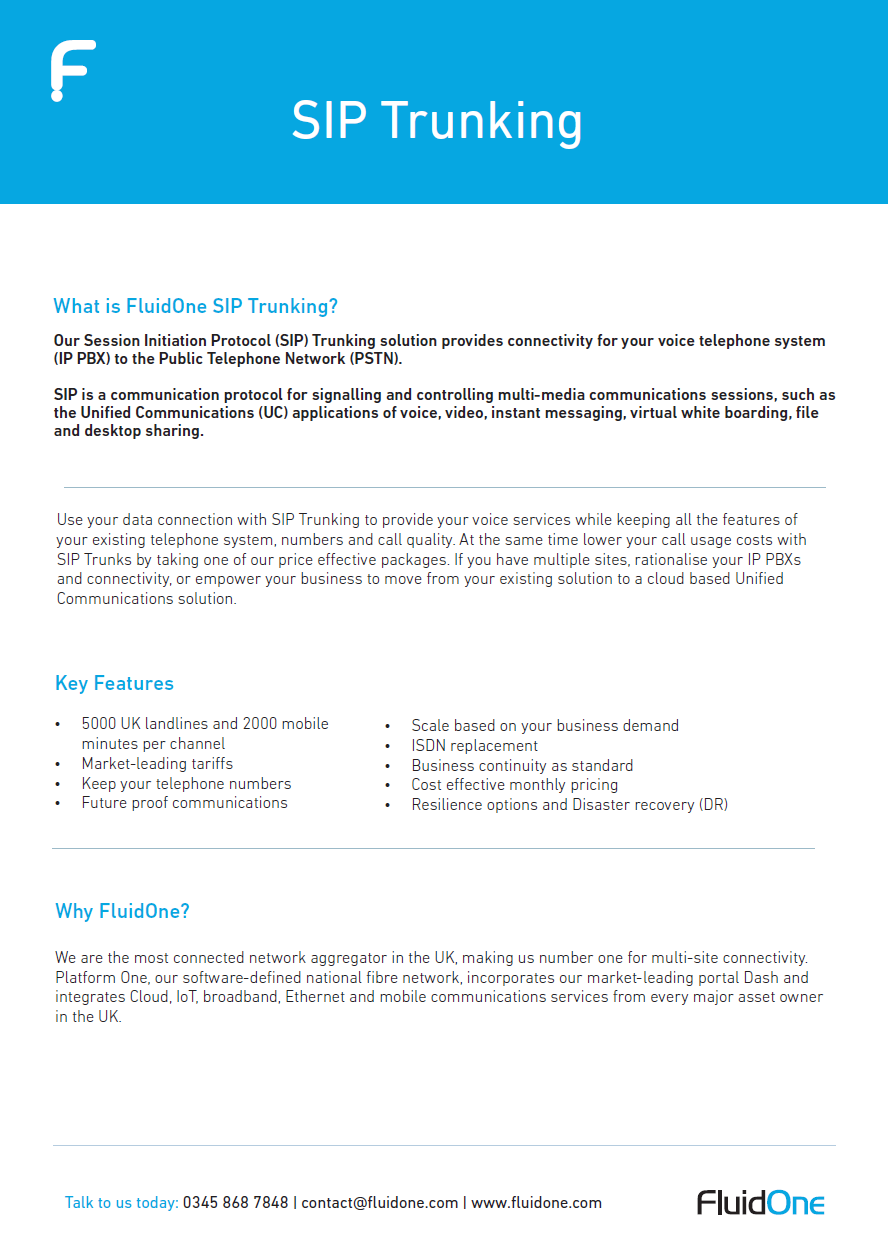 Again, connection types and device types to be managed can drive customer choice. Fluidone recommend SOTI for mobile device management and Solarwinds for fixed line. For hybrid networks requiring a unified management platform each of these platforms and capable and have their own relative strengths. We'd be happy to guide you.
Most importantly, Platform One features the DASH user portal that allows customers to compare, select, order, consume and manage these services online, including many in real-time. The choices available on DASH ensure best fit, best value and lowest possible cost of service and support. DASH drives Platform directly providing real-time SDN-like control not only of network functions but also of billing, customer service and customer support.
DASH and Platform One are designed to provide all of the country's main connectivity services through one portal, one contract, one point of service to end customers in whatever combination of fixed line and mobile data services make best sense for their businesses. For resellers it provides a single universal connectivity platform all of their own services. Platform One pre-integrates all of its connectivity services into many homogeneous virtual networks so that customers and partners don't have to do it themselves.
Probably the most complete connectivity platform in the UK?
You be the judge...
Find out more about how Platform One can help you business by contacting us online or by calling us on 0345 868 7848.