What Makes FluidOne A Great Place To Work?
Are you thinking of joining us here at FluidOne? We're not just a market-leading provider of Connected Cloud Solutions - we're a great place to work, and value the importance of a strong company culture. With teamwork and collaboration at the heart of what we do, it's no surprise that so many of our employees love working for us.
Don't Believe Us?
Since FluidOne was founded in 2006, it's gone from strength to strength. In recent years we've made acquisitions and partnered with a range of companies, including SAS Global Communications and Marathon. But we're not only interested in growth - we pride ourselves on creating a warm and welcoming atmosphere, and 92% of our staff agree with us, saying FluidOne is a fun place to work. We're also officially an outstanding company to work for, according to Best Companies, with a two star accreditation - and are ranked in both the Top 50 Best Mid Sized Companies to work for in London and the Top 50 Best Companies to work for in the whole of the UK.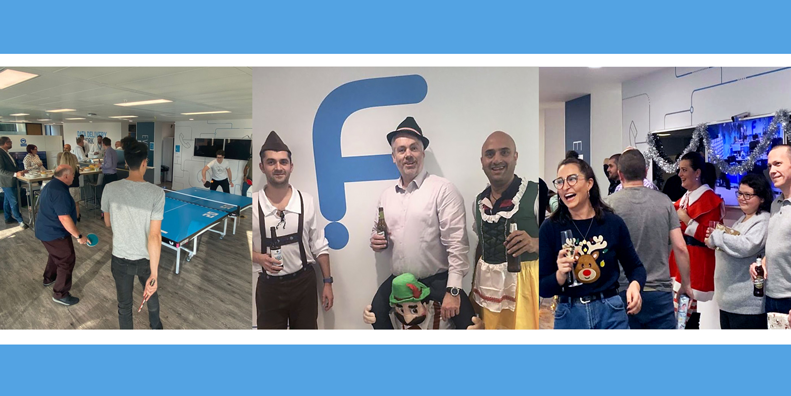 What's It Like Working For Us?
We care greatly about our staff, and want them to enjoy coming to work with us. We offer a range of benefits, including 26 days of holiday - and that's not including bank holidays. After two years, you'll qualify for an additional day, and that will increase year on year, up to a maximum of 30 days of leave. You even get an extra day off for your birthday.
We'll make a 5% contribution to your pension. We've embraced hybrid working, and you can work from home for three days a week (depending on your role) - when you come into the office, though, you'll get to enjoy free snacks and breakfast every day, as well as nibbles on a Thursday. For those working from home, we offer half-price internet. Everyone can save money on brands including Sky and Vodafone, and you can also use our employee benefits platform, Sodexo, to enjoy a range of discounts on everything from holidays and online shopping to cinema trips and your weekly shop.
The Company Culture
We kept spirits high throughout the pandemic, with regular team meetings and online quizzes. As we've eased back into normality after the pandemic, we've arranged meetings in the real world, with events for staff members to get together - the summer and Christmas parties are the highlights of our social calendar. There are events to look forward to throughout the year, though, with monthly buffets in the office and team nights out every quarter, giving everyone a chance to get to know each other outside the office.
Our staff's mental wellbeing is one of our top priorities, and we offer all employees - regardless of how long they've been with us - an Employee Assistance Programme (EAP). With EAP, staff can get 24/7 support, guidance, counselling, and expert legal advice on any personal and professional issues that could be affecting their home or work life. The wellbeing portal also offers a virtual library of wellbeing guides, with everything from dietary tips, fitness plans, and financial advice.
Our Charity Endeavours
We love to give back - during the pandemic, we encouraged staff to sign up to help the NHS when they were looking for volunteers. Many did, and were allowed to use their work hours to help out. We also choose to support charities, including CALM (Campaign Against Living Miserably) - an award-winning mental health charity that works to prevent suicide. Together with our staff, we've raised money through physical challenges and other activities, and even encouraged customers to complete surveys and donate to the organisation.
This year, moved by the humanitarian crisis in Ukraine, we decided to fundraise for Save the Children UK's Ukraine appeal and raised more than £18,500. We encouraged all of our staff to get moving - whether that's by running, walking, cycling, or even rowing - in order to collectively travel the distance from London to Kyiv and back (an incredible distance of 3,078 miles), and even organised a company-wide choir and band, to record a cover of the Ben E. King classic Stand By Me. For those who want to give back even more but simply don't have the time, we also have a Volunteer Day scheme. You can give back to the community and volunteer for a day at a place of your choice - that day won't be taken from your holiday leave, and you'll still be paid. At FluidOne, we also do our bit for the environment - as part of our new initiative, every time someone new starts at FluidOne we plant a tree via the 'Tree for Life' organisation.
To learn more about what it's like working here at FluidOne, or to find out about what vacancies might match your skills, check out the job openings on our

careers page

and join our team today.