What Type of Mobile Contract Does Your Business Need?
Deciding what mobile contract is best suited to your business can be a tough decision since the market is saturated with options. However, finding a resilient and reliable service provider is not a task that should be taken lightly. Mobility solutions are an ideal means of communication in the agile working environment. As more people are opting to work from home as well as in the office, it's crucial to opt for a solution that doesn't affect response times and connectivity.
At FluidOne, we offer Managed Mobile solutions that are designed with four key requirements in mind:
Reducing the load on your IT department by outsourcing support.
Providing endpoint security. Cybercrime isn't just for PCs - mobiles are vulnerable IT assets, too!
Enhancing coverage and connectivity with network flexibility.
On-going spending management.
From sim cards and handsets, to managed software and security, we've collated our top mobile solutions for businesses looking to stay connected, secure and in control.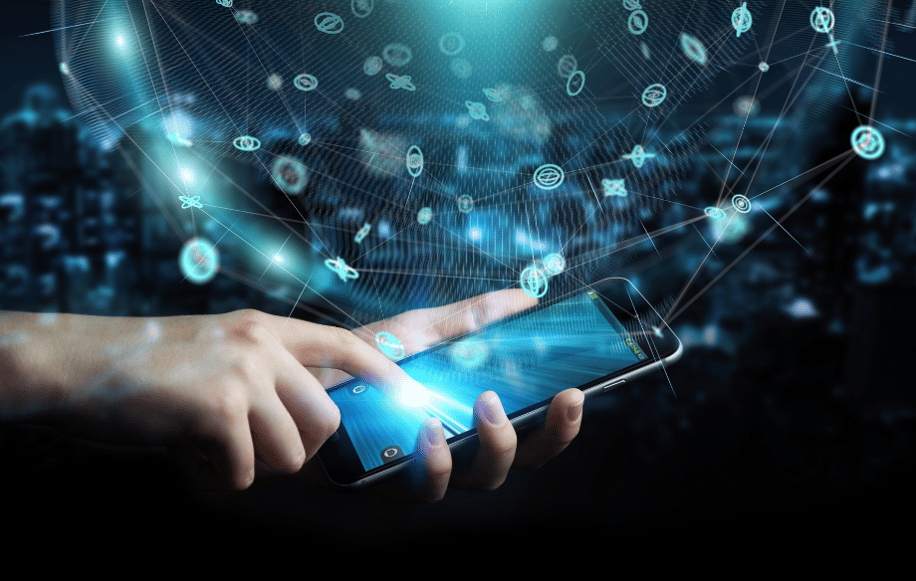 MobileFlex
Our unique platform for mobile connectivity incorporates eight UK and global carriers for smartphones and IoT services. As well as offering choice, our platform allows networks to be switched at any time. In pre-covid times, this was seen as a "so what," now it is almost seen as a "must-have." Hybrid working means users need to change networks depending on where they live and work, and with the ongoing 5G rollout, some users need to regularly switch networks to get the best connectivity available.
With varying data coverage throughout the UK, you've got to ask whether your current platform allows users experiencing poor coverage to change networks? Luckily, our Mobile Flex solution offers network agility, allowing businesses to stay connected with ease.
In addition, MobileFlex includes real-time reporting to provide a layer of protection against data shock and unexpected charges. By monitoring user spending, we eliminate any potential for overspending. At FluidOne, we help businesses implement a tariff that suits their requirements, as well as delivering support from our service team.
IoT, M2M & Roaming Sim Cards
At FluidOne, we provide IoT, M2M and Roaming sim cards, but what makes our solution different from others? For starters, we provide enterprise-grade connectivity with added security and integration into fixed-line networks. It delivers the flexibility to connect using any network, whether in the UK or internationally.
Our IoT platform supports all forms of IoT, E-Sim, LoRaWAN, NB-IoT, and LTE-M. Our vision is to provide our customers with a choice when it comes to getting the highest-grade connectivity solutions, rather than tying them to single networks and limited roadmaps. In addition, we deliver a unified IoT ecosystem that protects your business today and prepares your business for tomorrow.
Plus, our IoT or software-defined sims can be sent out on one network. However, should that network start experiencing performance issues, you can add one to three more networks in just 15 minutes to ensure your services are always online.
F1 Sim
Our multi-network F1 Sim delivers maximum coverage in the UK and globally, making it the most efficient solution for businesses who implement remote working. The sim provides private connectivity through the internet or the Cloud, with the option of a sim-only or managed router service. In addition, the solution features tracking, geofencing, reporting and seamless roaming. To make it even simpler, each service is pre-configured and available for an "out of the box" connectivity.
Our integration with UK networks means we can deliver a 4G WAN giving you, our customers, peace of mind that your mobile data traffic has the same levels of security as your network.
Config - Secure - Deploy
Over the last four years, we have been working with clients to provide a "white glove" service for smartphones and tablets - this is where CSD was born for FluidOne. Our ability to work with all leading manufacturers and MDM platforms means we can configure your devices, and enrol them to your Zero Touch, Knox or Apple Business Manager instances to own and control the asset.
In addition to asset management, our service also includes making devices MDM ready and providing both endpoint and screen protection. Our support team will then be on hand to manage all after-care.
Auto-Adjusting Tariffs
Does your service provider automatically adjust tariffs based on usage? Now that users are travelling more (and the imminent uptake of 5G for the masses) data usage is on the rise, making it unpredictable and difficult to keep track of. Our mobile solutions ensure businesses can stay on top of their usage and spending by adjusting tariffs to suit their requirements. Never be in fear of over-spending or under-using again.
If you're thinking about implementing a mobile solution for your business, don't hesitate to get in touch

with the FluidOne team with any queries you might have. All our solutions include managed services for configuring, securing and deploying.