FluidOne today announced exciting enhancements to its Software Defined Networking (SDN) portfolio with the launch of Secure SD-WAN.
Partnering with Fortinet, 'a global leader in broad, integrated and automated cybersecurity solutions', FluidOne's Secure SD-WAN solution has already seen significant traction in the SD-WAN marketplace, delivering a comprehensive solution that provides both SD-WAN and security functionality in a single integrated offering for distributed enterprise branches.
FluidOne integrates private and internet access services, pro
viding a truly 'secure Hybrid SD-WAN' solution with best of breed SD-WAN capabilities and next-generation security features, that intelligently manage your network and security, ensuring the highest level of performance.
Working with an MPLS or DIA connection, where traffic becomes more cloud/internet based, Secure SD-WAN allows traffic to be directed via a DIA (Direct Internet Access), permitting the MPLS connection to route, manage and prioritise traffic across mission-critical and on-net applications, such as voice and on premise hosted applications, offering increased agility, security and resilience; in turn maximising on your existing investment.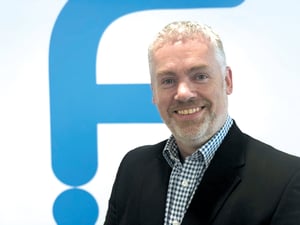 FluidOne's CEO, Russell Horton, explains:
"In discussing SD-Wan requirements with several key customers and partners it became apparent that the key use case to address is a site or branch office with at least 2 forms of connectivity (this could be fibre, dsl or mobile) being able to proactively load balance and prioritise traffic on an application by application basis.
An example is with a primary circuit and a backup, to proactively monitor latency and utilisation and automatically route internet based and non-essential applications over the backup line when thresholds are breached, ensuring the mission critical business applications have the quality of connection needed on the primary line.
As the backup line is routing over the internet this needs a branch firewall if it is an off-net connection. In vendor selecting the best solution to offer our customers FortiGate's Secure SD-Wan combining with the firewall in a single device was the stand out choice to partner with.
Another use case is for overseas branches with dual off-net connections to use SD-Wan to application load balance to give the best performance possible to the mission critical apps proactively as and when the performance on each circuit varies."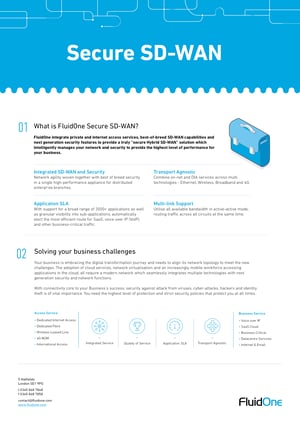 As businesses embrace digital transformation, the need for alignment across its network topology and mitigation against viruses and cyber-attacks is of vital importance. Businesses require the highest level of protection and strict security policies at all times. FluidOne's Secure SD-WAN seamlessly integrates multiple technologies with next-gen security and network functions.
Available to order now, the solution combines the flexibility of public internet access, dedicated private connectivity and secure cloud interconnects into one seamless network solution, ensuring business critical services maintain the highest possible performance, whilst reducing total cost of ownership (TCO).
The solution provides increased granularity and sophistication over a standard SD-WAN solution and offers real-time threat intelligence and intrusion prevention; protecting businesses against advanced threats, malicious websites and hacking attempts.