How Brexit will affect EU roaming
The Facts
Now that the UK has left the EU, you might be wondering what that means for EU roaming and whether you need to brace yourself for extra charges. Without the EU rules in place, the surcharge-free roaming when you travel to EU and EEA countries is no longer guaranteed, and the charges would depend on agreements between UK operators and their counterparts in EU countries.
Currently, it is a case of no news is good news. We have not yet received any communications from the four main UK network operators to say that they plan to reintroduce roaming charges. Additionally, just because the operators will be allowed to reintroduce roaming charges, does not necessarily mean they will do so.
Whilst we do not yet know the details of commercial deals they have with other operators, three factors dictate a reasonable chance of UK operators being able to continue to offer inclusive roaming:
Bilateral deals: a UK operator could agree with a French operator, for example, to allow inclusive roaming for UK customers visiting France and vice versa.
Each EU country has more than one operator, so UK operators will have a choice of companies to strike deals with.
Some UK operators are parts of groups that also operate in EU countries.

Our Opinion
Due to business travel being heavily reduced given the current global pandemic, concerns over EU roaming charges would not be high on the agenda. If you foresee that you will be affected by this in the near future, then our team are on hand to offer advice.
We believe that UK networks will avoid introducing charges whilst the pandemic remains a pressing nationwide issue. In our opinion networks previously increased charges in other areas like International or non-geographic to cover any potential losses of free-roaming, therefore if they wanted to reintroduce roaming charges, they would then need to address more balances across out-of-bundle pricing.
We will ensure to keep all of our customers and partners abreast with the latest information and news from carriers. Make sure to check back to this page for the latest. If you have any concerns about EU roaming or would like to speak to one of our team members, please get in touch.
About the author
Ash Morarji, Commercial Director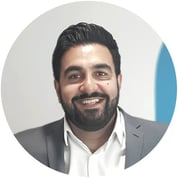 Ash is the Commercial Director of Mobile & IoT at FluidOne. Boasting a proven track record with 18 years of experience in the telecoms industry leading teams, winning new clients, cross-selling value-add services; and building long-term relationships with clients and suppliers. Ash is also responsible for developing the IoT product roadmap and strategy, leading innovation, and combining IoT with our Platform One network to bring combined solutions to market.

In his free time Ash enjoys spending time with his wife and two sons, playing football or visiting any farm or zoo in reach. A keen foodie and former MasterChef contestant, Ash loves to cook, eat out and doesn't mind a little wine tasting.