Understanding 8x8, a cloud UC solution available on net on Platform One
To continually diversify our Platform One offering for our partners, we recently launched an exciting new partnership with 8x8, a cloud UC solution. To ensure you get the most out of this new service we have broken down in detail how this new cloud communications platform can help your customers be number one in their fields.
Customer Service
Maintaining a high customer service rating is incredibly important for businesses, perhaps even more so this year as we all adapt to new ways of working. We have seen the increase in contact centre interest from UK businesses over the past decade, and now we are witnessing the age of refinement of the business model. Operational efficiencies are a lever that many business leaders will be pulling to maintain, improve and excel their level of customer service.
Streamlining customer contact centres is simple with 8x8, it is currently the only cloud-based unified communications solution that can directly integrate with an existing customer contact centre. Through FluidOne's Platform One, 8x8's multi-channel contact centre tool allows a workforce to consistently connect with every customer via their preferred channel, making it ideal for your customers that are small businesses and corporate enterprise clients alike.
As well as reliable customer service, the new contact centre technology provides more advanced ways of reporting on call centre metrics and operator performance. Your business customers can register keywords via a tailored system to determine how an agent is interacting with customers. Using this insight, they can perform trend analysis to identify skill gaps and build their own set of reports on operator metrics based on what is important to them. Since every call can be tracked, there's no more cross sections or sample pots to rely on which often result in an inaccurate representation of true operator performance.
Unified Communications Suite
Running the 8x8 services through Platform One means teams can connect like never before thanks to the Unified Communications Suite which supports a diverse range of business applications in real-time. The result is uncompromised global collaboration. The intuitive communications tools offer a best in class user experience for audio conferencing, web conferencing, virtual meetings, screen sharing and more - a tool that has been highly valued whilst working remotely. This is all possible via one secure platform which builds on FluidOne's commitment to being number one for service.
All-in-one Communications
As a partner, you will know that navigating between communication channels efficiently is a common problem businesses face. Fortunately, with the 8x8 all-in-one collaboration solution's routing tools, your customers can easily integrate a call centre, streamline call handling, or incorporate social channels with their existing messaging solutions. Also, the seamless navigation between communication channels can be built to scale according to each business's individual needs.
Team Messaging
The unified messaging platform allows teams to communicate instantly and naturally since it is designed for fast productive sharing across desktop and mobile devices. Teams can easily insert documents, sync with existing G Suite profiles, and even incorporate existing conferencing and messaging apps such as Skype and Google Chat ensuring customers can start sharing like a pro.
Web Conferencing
The 8x8 web conferencing tools make virtual meetings and video conferences simple. Your customers and their teams can comfortably host up to 100 participants in full HD, with integrations across their existing communications channels. This is where 8x8 is a true pioneer in helping people connect in person virtually everywhere.
Unified Communications as a Service (UCaaS)
Unified Communications as a Service (UCaaS) delivers synchronised business communications technologies on one cloud-based platform. UCaaS service providers, like 8x8, utilise voice over internet protocol (VOIP) and related internet protocol (IP) telephony technology to connect traditional business phone systems with instant messaging, video conferencing and related web services. Advantages for customers using UCaaS include improved collaboration across teams, quick deployment, adaptability, and a reduced total cost of ownership.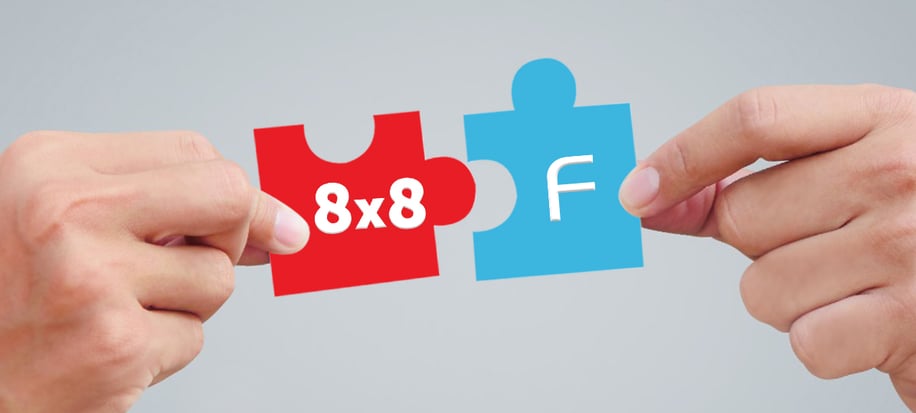 Bringing it all together
Scalability
As businesses grow, so will their communication systems. 8x8's cloud services allow businesses to customise their communication tools to fit their unique business processes and delivery models as they grow and adapt. Different teams have different needs; with 8x8 on Platform One, your customers' businesses are empowered to make the right call.
Easy to Use
The Unified Communications Suite from 8x8 is simple to manage and fast to deploy. You can grant your customers full control over their entire unified communication system which they can customise to personal interfaces and prioritise the tools they use most — all without IT assistance.
Cost-Effective
The communication systems from 8x8 eliminate the high operating costs and continued capital expenses of old technology meaning they can cut phone costs by 50% or more.
Unified Communications and Collaboration
Nowadays markets and teams are global. They require synchronisation across all communication for workforces and businesses to remain aligned. 8x8 provides collaboration solutions that empower everyone, everywhere, every time.
Real-time Communication
Remotely uniting people and locations, has been of utmost importance during the global lockdown and 8x8 is the ultimate tool to do so. It gives all employees the same seamless access to phone services, conferencing capabilities, integrated mobile apps, analytics, and preferred Customer Relationship Management (CRM) tools - all with built-in time management bonuses like presence awareness and visual voicemail.
Built on Platform One: Best for Quality, Best for Service
By combining the power of 8x8 with Platform One, we can offer our partners and their customers all of the services mentioned above with our stronghold commitment to being number one for multi-site, quality, service and expertise. Your customers will benefit from the reliability and quality of running their UC on Platform one whilst maintaining the quality service we have always offered (highlighted by our NPS of 80*). Additionally, the whole service will be manageable and scalable through Dash, our constantly evolving and improving portal, set up for you to serve your customers in the best way you can, and for you to build your business on FluidOne.
Want a demo? Get in touch with a team member today to try out FluidOne's 8x8, a cloud UC solution.


*H1 2020
8x8 takes the security of your data and your teams personally. Our Unified Communications Suite is certified for more security and privacy uses than every competitor in the market. We are FISMA and HIPAA compliant, making our tools the top choice for government services and health care providers, and our solutions are rated Enterprise-Ready by the prestigious Skyhigh Networks CloudTrust™ program.

About the author
Lee Rossano, Head of Channel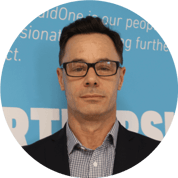 Lee is a channel professional with over 25 years' experience. He joins the FluidOne leadership team, bringing a wealth experience operating in senior roles, developing go-to-market strategies and building successful sales teams. Lee has drive and industry knowledge - making him the right fit to lead the channel growth strategy. Responsible for retaining, growing and on-boarding new partners and driving FluidOne's channel strategy and vision; he enables our partner ecosystem to deliver unique commercially viable propositions to the UK market.

Lee lives in the South East, and enjoys spending time with the family and two dogs, following his beloved Liverpool FC. Russell is married with 4 children, has a blackbelt in Karate and is a long-time supporter of the England Rugby team. At weekends he likes to spend time with his family playing football, doing indoor climbing and karate.