What 2020 taught us and how to make long-term business plans
Over the last 9 months, I have been in various discussions with senior management from my supply chain and our customers where the underlying theme has naturally been uncertainty and facing the challenge of delivering consistent results. The hardest part of dealing with the pandemic is not knowing how far in the future a return to normality lies and whether the normality we return to will be the same as it once was. Is the 'new normal' here to stay?
The recurring theme in my discussions with customers has been the need to remain connected, secure and have reliable availability. We have supported many industries during Covid-19, and the main challenge with most businesses has been mobilising their workforce without business continuity plans to support prolonged working away from the office.
'
The last few months have been a hokey-cokey dance as we question whether the UK is in the EU, or out? Is there a trade deal, or not? Are we in a strict lockdown, or can we socialise at a distance? The continued mixed messaging and advice has been the reason behind a lot of short-term strategies. It is understandable to want to plan reactively to effectively deal with the here and now, however, I firmly believe we need to do away with this short-term view and plan for remote working for the next 12-months.
I have been speaking to a number of clients who have begun to plan business strategies based on Covid-19 remaining for the next 12-months, with a similar year of variable and seasonal lockdowns throughout 2021. It is a wise move to seriously consider these expectations as they will ensure businesses effectively plan for the worst, whilst keeping businesses agile and robust. The very nature of short-term strategies is that they lack longevity and can negatively impact on future goals if not properly considered.
The government's task to financially stabilize the nation whilst also keeping everyone safe is a juggling act I would not like to have on my own task list; however, regardless of whether we think they are doing the right or wrong thing, we must still plan our business growth and stability for the long-term, not the short-term.


My advice to businesses looking to review their technology roadmap for 2021 is as follows:
Question the longevity of solutions you are putting in place, will they support you in all levels of lockdown and beyond? – choosing a solution that will only serve your business for the next 3 to 6 months will more than likely mean you end up buying twice.
Review the supply chain – does your provider offer best of breed solutions? Or are they aligned to a limited range of suppliers and sales agendas fuelled by supplier targets?
Cast a wider net – vendors that offer single tower product lines will be very good at what they provide, but in a world where we are working remotely, you will see more benefit from joined-up solutions where the consolidation of a supply chain will give you back time in supporting your infrastructure.

The services that will help your business in 2021 and beyond:
IoT – The growth of IoT will accelerate as the impact of Covid-19 continues. We have already witnessed this in our business where IoT requirements and usage has seen the division double in size. Why? IoT solutions offer you the ability to gain intelligence and work smarter which will help growth aspirations and customer satisfaction
Cyber Security – The need for security has always been prevalent, and cyber-attacks are not a result of Covid-19. However, what has been apparent is that businesses are finding it hard to maintain the same levels of security and compliance when people are working remotely and are not connected to the corporate network. The number of cracks a cyber-attack could sneak through is increased.
Managed Services – Reduced IT resources and budgets have created gaps in workload and skillset which will be outsourced. Filling these gaps with specialist service providers will ensure that businesses receive trained resources for key tasks and projects.
We have used many of the ideas and services I have discussed here at FluidOne, and in challenging times have made key acquisitions of companies that share a similar DNA, whilst increasing the number of products and services we can offer. Our focus is to continue to grow during the pandemic as we do not want to put any long-term plans on hold we have decided to focus on evolving and diversifying.
We are excited about the future of our business and how we can help our customers fly through this turbulence and see bright blue skies on the other side. I hope you all had a great Christmas and New Year and hope that this year we all hear a lot less of "you are on mute."
About the author
Ash Morarji, Commercial Director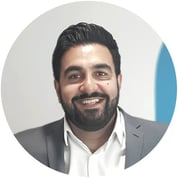 Ash is the Commercial Director of Mobile & IoT at FluidOne. Boasting a proven track record with 18 years of experience in the telecoms industry leading teams, winning new clients, cross-selling value-add services; and building long-term relationships with clients and suppliers. Ash is also responsible for developing the IoT product roadmap and strategy, leading innovation, and combining IoT with our Platform One network to bring combined solutions to market.

In his free time Ash enjoys spending time with his wife and two sons, playing football or visiting any farm or zoo in reach. A keen foodie and former MasterChef contestant, Ash loves to cook, eat out and doesn't mind a little wine tasting.